Translated from Latin as "invincible", Invicta is a watch brand that stays true to its Swiss watchmaking origins of superior craftsmanship.
The brand's history is just the tip of the iceberg when it comes to unearthing Invicta's unassailable reputation for quality watches at affordable prices.
Find out why Invicta remains a staunch watch brand even today, and why you shouldn't snooze on purchasing an Invicta timepiece of your own.
The Brand That Stood The Test Of Time
After almost being wiped out with other watchmakers in the quartz crisis of the '70s, Invicta stands a formidable foe even against the more exclusive watchmakers to date.
The main key to the brand's enduring legacy? Founder Raphael Picard's mission to create fine affordable Swiss timepieces.
Although the original company established by Picard in 1837 is no more, the US-based company that purchased the rights to the brand continues to live by the same advocacy established many years ago.
Many of Invicta's watches fall between the $100-$150 price range, giving buyers access to a quality wristwatch with Swiss heritage at a fraction of the price.
Swiss Technique, Japanese Technology
While Invicta watches hail from a deep history rooted in Swiss expertise, the company has kept up with the times and acknowledged the mastery of Japanese watchmakers when it comes to watch movements.
Known for their attention to precision and effectiveness, Invicta uses movements supplied by Seiko for many of its watches- such as the Pro Diver series that uses high-quality Seiko NH35A 24-jewel caliber.
Using Japanese movements as opposed to Swiss ones also allows Invicta to keep their watches affordable, which is a major selling point for most people who aren't looking to buy collector pieces.
Who Says You Can't Buy Class?
Invicta watches are known for being one of the most affordable watches in the market without sacrificing aesthetics.
With classic designs paying homage to pricier watchmakers, you can achieve the same look for a much lower price point.
For $100 bucks or less (depending on if you can catch a sale), you can be the proud owner of a Pro Diver watch that's a shoo-in for the Rolex Submariner series.
A Design for Everyone
Aside from proving its resiliency and adaptability, Invicta has solidified its reputation for constant innovation.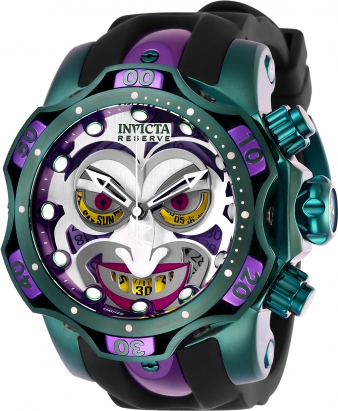 The brand carries over 30 design series and brand collaborations with Disney, DC Comics, Star Wars, and even the NFL, making several collector pieces that fans of each franchise would die to have.
With hundreds of new styles each year, Invicta watches cover all occasions, personalities, and interests that are sure to have something for everyone.
Some Points to Consider When Buying Invicta Watches
Like with all products, there are a few considerations you might want to weigh before buying an Invicta watch.
While these drawbacks might not be major deal-breakers for most, they're something to keep in mind when you're approaching the Invicta watch brand for the first time.
1. The Watches Aren't Always Made in Switzerland
Even though Invicta proudly markets its roots in Swiss watchmaking, not all of their watches are Swiss-made.
The majority of the brand's manufacturing is actually outsourced from third parties in Asia- specifically China. As a result, the company is able to keep retail selling prices low.
While "Made in China" may have a bad reputation for being part of a mass-produced empire, using an automated robotics line can be a plus when trying to minimize human error.
However, if this feature of the brand bothers you, Invicta still has a sizable line of Swiss-made watches if you want to secure traditionally made watches.
2. Invicta Watch Designs Are Heavily Influenced By Other Brands
It's no secret that Invicta watches look remarkably like the Rolex pieces, with many consumers being confused enough to wonder if Invicta is owned by the Swiss luxury brand in any aspect (Note: it's not).
Owning a Rolex-inspired watch at a way smaller fragment of the price may be a benefit for many customers, but it's also a major pet peeve for some who have a problem with design authenticity.
While it's not illegal to copy designs as watchmakers usually do this when the rights reserved to a patent wear off, many Swiss watch enthusiasts take a bit of offense at these sorts of design moves.
3. Durability May Be A Problem
If you take a quick look at online review forums, Invicta brand watches have a polarizing consumer base with a large market complaining of durability and quality control issues.
Although Invicta offers a 3-5 year warranty on its watches, most people complain of the watches conking out within 2-3 years. This can get frustrating if you're always having parts replaced.
Note that while the brand may have a low overall rating with consumers, it's important to do your bit and look at reviews for whichever watches you're buying.
The bestselling Pro Diver collection, for example, remains a fan favorite with several buyers claiming to have held onto their high-quality watches for years.
4. Reviews on Customer Service Leave Little To Be Desired
A quick browse through reviews on platforms such as Sitejabber and Trustpilot shows that Invicta's service is a hit or miss.
While there is the occasional review from a satisfied buyer, a large portion of buyers share their frustration with how customer service (both in-store and online) handled their complaints.
Customer reviews from ConsumerAffairs and Yelp show average review ratings of only 1.5 stars, with several complaining about:
Quality control
Shipping delays
Never receiving watches purchased from the website
Being unable to get through horribly long wait times and email correspondences
5. Sparse Warranty Coverage
Invicta typically offers 3-5 years of warranty on all their timepieces, which looks like a long time of coverage for a watch.
However, note that the warranty only covers the dial, hands, and movement. That means if your sidebar or crown pops off, Invicta won't cover the problem even if the defect was a factory issue.
On top of that, even if your problem is covered by Invicta's warranty program, getting a replacement part or all your money back is a difficult undertaking.
Invicta requires buyers to pay for the shipping and/or service fees to the company even if you're not responsible for the problem.
Additionally, performing minor maintenance like changing the battery on your quartz movement watch makes you ineligible for warranty coverage.
Who Should Wear An Invicta Watch?
Good and bad points aside, Invicta watches are a good buy for anyone who doesn't want to spend too much money on a classy-looking watch.
While Invicta watches are not a status-symbol type of watch, they are a "value-for-money" brand for people who want to approximate the look of a luxury watch without breaking the bank to wear one.
Invicta watches are also best for people who aren't looking for a beater watch but just the occasional timepiece to use at a formal event or in water sports that calls for extra moisture resistance.
Best Selling Invicta Watch Series
That said, the best way to review a watchmaker is to take a look at its number-one watches.
See our picks below for Invicta watches that hit all the brand's main selling points: Price, quality, and aesthetics.
Invicta Pro Diver: Timeless Elegance
Invicta's top-selling line is undoubtedly their Pro Diver collection.
True to its name, the series is best for people who need a quality timepiece while diving.
The watch's reliable Swiss or Japanese movement is marketed to be waterproof until 200 meters; guiding divers with luminescent hands and a 41-hour power reserve.
The Pro Diver is also made with thick stainless steel and scratch-resistant mineral crystal which makes it a sturdy watch across the board even if you aren't a diver.
Aesthetic-wise, you can't find a dressier, more affordable option especially if you enjoy the look of the Rolex Submariner watches.
Invicta Pro Diver 8926OB
Case: 40mm , Stainless Steel
Band: Stainless Steel, 210mm x 20mm (length x width)
Bezel Color: Black
Luminous Material and Color: Tritnite; Green
Movement: Japan Automatic
Water resistance: 200M
The Pro Diver 8926OB automatic movement watch is arguably the best model of the collection. It can be categorized as a cheap dive watch.
At a 40mm diameter, the watch fits nicely on the average man's wrists. The black tone also makes it versatile to wear with a casual or formal look, depending on how you dress it up or down.
Whether at its original (~$159) or sale (~$95) price, the 8926OB looks much more expensive than what it actually costs and still keeps quality value.
The watch also uses a Seiko NH35A movement, which is known for keeping proper time and remaining a solid workhorse for years.
The water resistance is also much higher than what you need for an ordinary dress watch. Feel free to shower or swim with this watch without being afraid of it popping open due to pressure.
Our favorite color variation: Pro Diver 8928OB (23k Gold-Plated & Stainless Steel); especially if you like the look of the Rolex Oyster Perpetual watches!
Invicta Speedway: Race in Elegance
In theme with the strong-Rolex design cues, Invicta's Speedway collection is the equivalent of the Rolex Daytona watches.
Intended for motor racing enthusiasts and sports lovers alike, the Speedway line features watches with a speedometer in the bezel and 3 circular time indicators on the dial.
Together these design elements function as a chronograph which can be activated through the buttons surrounding the screw-down crown.
Invicta Speedway 9212
Case: 39.5mm, Stainless Steel
Band: Stainless Steel, 210mm x 20mm (length x width)
Tone: Steel and Gold
Bezel Color: Textured White
Movement: Japan Quartz
Water resistance: 200M
This chronograph watch has mineral crystal glass that gives it medium-grade protection for scratches. At less than $100, that's a good deal for scratch-resistant material.
The diameter of 39.5mm is perfect for your standard dress watch, and the 9mm thickness gives a decent weight to the watch.
Equipped with a tachymeter and a dial displaying 60-second, 60-minute, and 24-hour sub-dials, the Invicta Speedway 9212 is perfect for counting good time down to a tee.
The Japanese quartz movement also helps maintain timekeeping as accurately as possible, as automatic watches tend to be off a few seconds per day.
The clean white dial and luminescent gold hand also give the watch an easy, discernable read whether in the day or night; with the elegant two-tone finish making it a stunner for any occasion.
Our favorite color variations: Invicta Speedway 9223 (stainless steel with black dial) and Invicta Speedway 9211 (stainless steel with white dial).
You can find more chronograph watches under $500 here.
Invicta Aviator
Dedicated to pilots and pilot-watch lovers, the Invicta Aviator collection features chronograph timepieces with a date window on the dial.
The watches in this line are furnished with stopwatch buttons and textured push-pull crowns for easy setting and come in a variety of band finishes from stainless steel to leather and rubber.
Designed with aeronautical graphic history to make it your prime partner when you're cruising the skies, the Invicta Aviator watches are ready to take off full-throttle.
Invicta Aviator 17203
Case: 48mm, Steel
Band: Stainless Steel, 225mm x 24mm (length x width)
Tone: Gold and Black
Bezel Color: Black
Movement: Japan Quartz
Water resistance: 100M
Similar to Invicta's other quartz watches, the Invicta 17203 is powered by a Japanese TMI VD57 that makes this timepiece as sharp a timekeeper as it looks.
Featuring a date-time window, 360-degree compass markings, and tachymeter markers, the Invicta Aviator 17203 has a lot going on.
Not to mention the watch also has analog sub-dials displaying 60-second, 60-minute, and 1/10th of a second timekeeping in case you needed more numbers.
While a lot of buyers may find this model's face too busy, the watch certainly packs a punch as a statement piece.
The 48mm deep sapphire dial with the rose-gold bezel makes for a visually bold watch, and the 17mm-thick case makes this model one of the heavier Invicta watches around.
Our favorite color variations: Invicta Aviator 22970 (stainless steel with sapphire dial and black bezel) and Invicta Aviator 17204 (stainless steel with black dial and black bezel)
Invicta Angel
We could not round up an Invicta watches review without giving a shout-out to the brand's dedicated design line for women.
Harmonizing a perfect balance between time and style, the Invicta Angel series features several stainless steel and leather watches available in circular-shaped or rectangular-faced dials.
Adequately sized between 30mm-39mm for women's delicate wrists, the Invicta Angel collection watches know how to keep looks light and easy on the eyes.
Invicta Angel 19218
Case: 38mm, Stainless Steel
Band: Stainless Steel, 215mm x 18mm (length x width)
Tone: Rose Gold
Bezel Color: Rose Gold
Movement: Japan Quartz
Water resistance: 100M
Featuring a gold-tone case, bracelet, and bezel, the Invicta Angel 19218 screams luxury.
This chronograph timepiece keeps its luxury look consistent with a gold dial and hand that showcase alternation Arabic numeral and index hour markers.
The face also features three sub-dials for keeping seconds, minutes, and hours exact with luminescent minute markers around the outer rim.
Powered by Japanese quartz encased in a scratch-resistant flame fusion crystal, the Invicta Angel 19217 is a feminine-looking watch with the sturdiness and quality of Invicta's other models for men.
Our favorite color variations: Invicta Angel 19218 (rose gold), Invicta Angel 19219 (two-tone stainless steel and gold)
Invicta Watches: Wear What You Want
At the end of the day, if you like how a watch looks on you then that's a perfect reason to go for it.
Invicta watches make that watch-wearing philosophy a lot easier to stick by because of the brand's extremely accessible price point.
Interested in affordable watch brands? Check out this article.
If you're not in the market to buy a watch as an investment but instead as a reliable and fashionable timepiece, then Invicta is an excellent choice.